Dredging and Reclamation Works at Pointe L'Herbe & Allied Works in Port Mathurin Harbour in Rodrigues
Rodrigues is a small volcanic island of the Republic of Mauritius in the Indian Ocean. It is located approximately 560 km east of Mauritius, and has a coastline of about 80 km and a lagoon of about 300 km2, surrounded by coral reefs. The only commercial port of Rodrigues Island is Port Mathurin, with single quay in the North of the island. The existing quay of Port Mathurin will reach its economic life in 2030 - 2035. When this quay is not utilized for commercial activities, it is used for fishing vessels and yachts. Further, the Rodrigues Regional Assembly (RRA) is planning to expand the fishing sector of the island. On the other hand, the presence of coral outcrops in the channel cause obstruction to navigation, and these outcrops need to be removed for safe navigation and deepen the channel for larger vessels.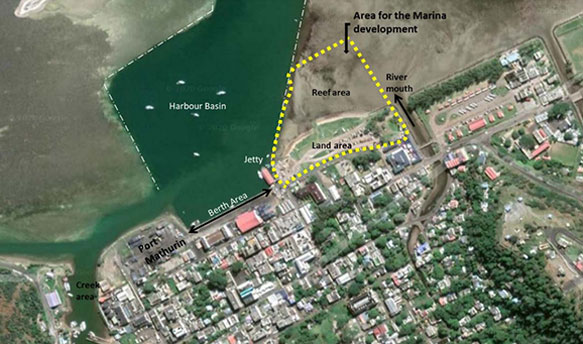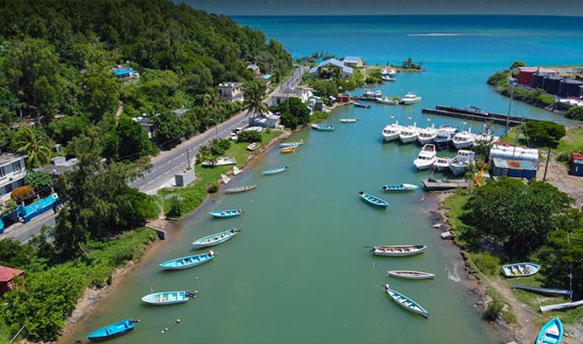 In this context, a Port Master Plan study was undertaken in 2016 and the prime recommendations for the long-term development of the Island are as follows;
To construct a new quay to the west of the existing port by removing the port facilities from the centre of the town.
To develop a dedicated fishing port at Pointe L'Herbe.
To construct yacht facilities.
These projects recommendations are supposed to be implemented in a phased manner. Accordingly, construction of the new fishery harbour on reclaimed land at Pointe L'Herbe, dredging of a new navigational channel to facilitate navigation of boats to Oyster Bay, removal of coral rock outcrops in the channel for safe navigation and construction of yacht facilities are the main developments proposed under the Phase I.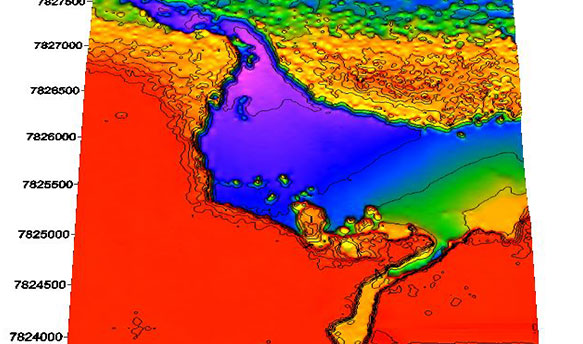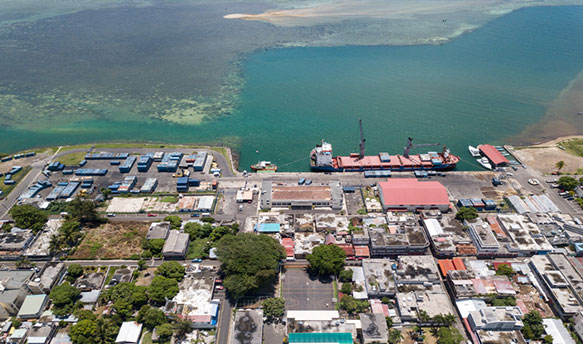 To fulfil the requirement of the Phase I, LHI (Lanka Hydraulic Institute) undertook following development activities under 3 stages.
Stage A: Feasibility Studies, Site Investigations and EIA
Feasibility Study of Fishing Port and New Navigation Channel
Feasibility Study of Outcrops in Port Mathurin Navigation Channel
Feasibility Study of Yacht Facilities at Port Mathurin
Site Investigations and EIA
Stage B: Detailed Engineering Designs and Tender Services
Detailed Engineering Designs of Fishing Port and New Navigation Channel
Detailed Engineering Designs of Outcrops in Port Mathurin Navigation Channel
Detailed Engineering Designs of Yacht Facilities at Port Mathurin
Pre-Tender Estimates and Procurement Services
Stage C: Overall Project Management and Supervision of Works
Overall Project Management
Site Management and Supervision
Quality Control
Field investigations and mathematical model studies were included for the Stage A (Feasibility & EIA) of the project. Under the investigations, ecological survey and the borehole investigation were carried out and under the supervision of LHI expert team to obtain the site specific data for the EIA and the structure design. Mathematical modelling comprised wave climate, hydrodynamics and sediment transport studies for both normal and cyclone conditions.

The feasibility study, EIA and the detailed design study of the project (Stage A & B) were carried out by LHI during 2019 – 2020 period. Consultancy service for overall project management and supervision of works are planned to be finished by 2023.