LHI conferred GOLD for Championing the Professional Service Exports in Sri Lanka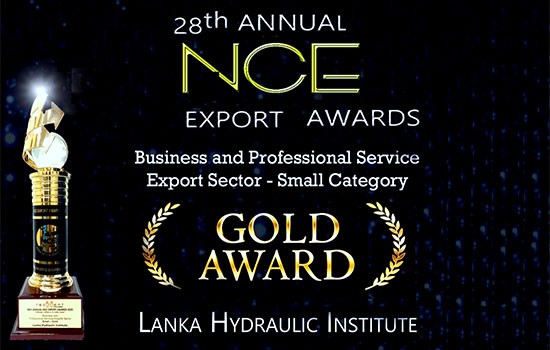 LHI, as a premier service provider of best engineering solutions to the global market place has bagged GOLD in recently concluded 28th annual NCE Export Awards Ceremony at Shangri-La Hotel Colombo. The event recognised and honoured Sri Lanka's export champions for their excellence in financial year 2019/2020. "Being a major player in the consultancy business in services export sector, we have consistently been honoured since 2007, and this is the second time LHI achieved the coveted Gold", said its CEO, Eng. Janaka Kurukulasuriya. In honouring LHI's outstanding accomplishments in the engineering field, the Institution of Engineers Sri Lanka (IESL) also conferred LHI the Engineering Excellence Award in the past.
The company's exceptional export performance came despite the tumultuous times in the global and domestic markets with the onset of COVID 19 pandemic worldwide and the aftermath of Easter bombings in the country. When the economic downturn hurt many exporters, LHI remained resilient owing to its far-sighted management strategies coupled with unmatched dedication of its employee base. LHI goes onto the record as one of the few consultancy giants in the country who declared profits and dividends when the industry, on average, was exercising layoffs and salary cuts.
LHI specializes in coastal engineering, inland water, urban water and drainage services. Equipped with a state-of-the-art hydraulics laboratory, and wide variety of in-house expertise, LHI provides consultancy services in port planning and design, met-oceanic surveys, and numerical & physical modelling of coastal / riverine structures. Since its inception in 1985, LHI has conducted over 400 projects in Sri Lanka and overseas. All its processes are streamlined, quality assured, and in accordance with ISO 9001:2015 standard. LHI's services are proudly relied upon by number of international clients from Algeria, Bangladesh, Belize, Bhutan, Brunei, Eritrea, France, India, Iran, Maldives, Mauritius, Oman, Senegal, South Korea, and UAE.
Elaborating the success story, Dr. Sanjeewa Wickramaratne, senior specialist of LHI told that the company has always prioritised customer satisfaction that enabled to develop the platform of trust on which the future success is defined. The company strives to make a profound impact in the consultancy milieu on the pillars of economic, social and environmental sustainability. "Branded as one of the few Carbon negative engineering service providers in the country, our approach is to be sensitive and considerate in every aspect of our projects" he added.
During the fiscal year 2019/20, LHI has successfully completed several foreign projects including: Physical model studies for Mumbai coastal road project (India), Consultancy services for flood mitigation in Hulhudhoo, Meedhoo Hithadhoo, Maradhoo and Maradhoo-Feydhoo (Maldives), Groundwater resource management and aquifer protection in Maldives, Beach re-profiling at Anse des Salines (Mauritius), Consultancy services for dredging and reclamation works at Pointe L'Herbe, and allied works in Port Mathurin Harbour (Mauritius).
Anchoring the local development drive, LHI proudly offers consultancy services for proposed RLNG/Combined Cycle power plant at Kerawalapitiya and the Fishery Harbour in Wennappuwa etc. Climate Resilience Improvement Project (CRIP) under the patronage of World Bank also offered three back to back assignments for LHI including a salinity barrier project in Ambatale and city flood protection projects in Gampaha / Ja-Ela and Anuradhapura. Contributing for the expansion of national port and harbour sector, LHI anchors Gandara fishery harbour, Port City project and the proposed Colombo North Port Development Project.
LHI with its unique potential for specialised engineering services, continues to excel in the global and domestic markets in coastal and inland water sectors. Commenting on the illustrious accolade received, Eng. Kurukulasuriya further said "this feat is testament to our expertise, passion and attention to detail and the reason as to why LHI has become a leading professional service exporter in Sri Lanka."