LHI Completed Wellamankara Fishery Harbour in Wennappuwa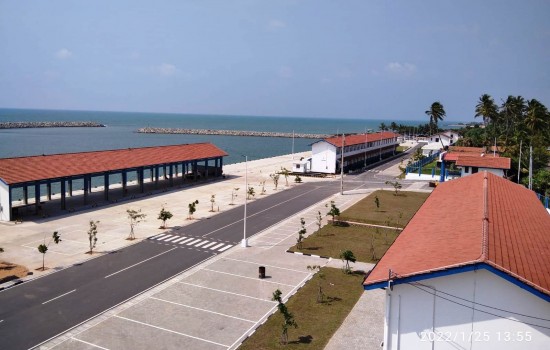 The Wellamankara Fishery Harbour in Wennappuwa, which is constructed as the largest fishing harbour in Sri Lanka, was opened to the public on 9th June 2022. The project cost of the harbour reached almost Rs. 2 billion and was completed in December 2021. With a basin area of 7.7 hectares, the fishery harbour has a capacity to moor more than 350 boats at once, including 65 feet length multiday fishing boats.
Wellamankara is a coastal village in Puttalam district in the North-Western province of Sri Lanka. Adequate fish landing facilities for multiday vessels are a long-standing request of local fishermen in the Wennappuwa area and fishermen dwelling in the North-Western coastal belt in Sri Lanka. In order to confront the insufficient fish landing facilities, the Ministry of Fisheries and Aquatic Resources Development (MFARD) of the Government of Sri Lanka (GOSL) decided to launch a fully-fledged fishery harbour project to benefit multiday fishing vessels.
Engineering consultancy service for feasibility study, detailed design and construction supervision work of Wellamankara Fishery Harbour was done by Lanka Hydraulic Institute Ltd. (LHI) in all phases since 2015.
The Chief Executive Officer (CEO) of LHI, Eng. Janaka Kurukulasuriya, declared that the Wellamankara Fishery Harbour Project is one of the major and important projects LHI has undertaken. He further stated "During the past years, we have provided our consultancy service for fishery harbour development projects along the coastal belt of Sri Lanka, including Cod Bay, Valaichchenai, Hambantota, Kalametiya, Dikkowita, Kudawella, Puranawella and Mirissa. We have already completed the designs of Kapparatota and Balapitiya Fishery Harbours which will be developed by GOSL in near future". Mr. Kurukulasuriya was happy to announce their contribution for several ongoing fishery harbour projects such as Gandara, Hikkaduwa, Ambalangoda and Dodanduwa. "We continue our service for the betterment of the society", he said.
Dr.D.P.C. Laknath, Senior Specialist of LHI and the Project Manager of Wellamankara Fishery Harbour Project, elaborated the successful story of the development of the harbour. He stated that "we carried out all stages of the present harbour development, including feasibility study, detailed design of marine and onshore structures, contract administration and construction supervision. From the coastal engineering point of view, selecting a suitable location, design and construction of the marine structures and onshore facilities were challenging as the project area is highly sensitive and associated with coastal processes such as coastal erosion, currents, waves and sediment transports which made Wellamankara a vulnerable area in the past before the implementation of Coastal Resources Management Project (CRMP). He further revealed how the LHI team successfully designed, optimized, developed and constructed the harbour using state-of-the-art numerical simulation methods and standard design methods and construction practises. He also acknowledged the continuous support and monitoring provided by the client MFARD, including Project Director, Eng. Prabath Ranaweera.
The Wellamankara Fishery Harbour is designed with 4 metres minimum depth to service multiday fishing boats up to 65 feet in length.The marine structures of the harbour were designed and optimized carefully considering dominant local and regional coastal processes. To protect the harbour mainly from adverse wave and sediment actions, the harbour basin is provided with two breakwaters with a total length of 710 metres. For mooring and loading, unloading activities, a quay wall of 350 metres length has been provided. The harbour consists of a 3.2 hectares onshore area as well. It includes buildings and facilities for Auction Hall, Net Mending, Canteen, Administration Building, Work Shop, Staff Quarters, Manager Quarters, Cool Room, Treatment Plant, Travel Lift Bay and Weigh Bridge.
Eng. KMTB Ganegoda, the Resident Engineer of Wellamankara Fishery Harbour Project, stated that "the developed harbour with 350 m of the quay wall, boat lifting facility and buildings will be beneficial for the fishery community in the island since this is the fully-fledged fishery harbour after Dikkowita Harbour in Sri Lanka". He ensured that the construction work was carried out according to the standard methods with assured quality and the harbour was completed to fulfil the requirements of stakeholders. Mr. Ganegoda also mentioned that the capacity of the present harbour would further be increased by three Finger Jetties of 180 m length, which LHI has already designed.
Being expertise in oceans, coastal and inland water hydraulic engineering, LHI has been providing specialized consulting services for nearly four decades on Water and Environmental Engineering for both national and international projects. As explained by Mr. Kurukulasuriya, LHI has a state-of-the-art physical modelling laboratory, advanced numerical simulation unit, and, up to date hydrography and field instrumentation capability. LHI provides consultancy services in port planning and design, met-oceanic surveys, and numerical and physical modelling of coastal and riverine structures. Since its inception in 1985, LHI has conducted over 400 projects in Sri Lanka and overseas. Mr. Kurukulasuriya further said "we continuously manage to surpass our financial goals and deliver our service for the fullest satisfaction of our clients. This holds true even during the current global pandemic situation". The consecutive gold awards won by LHI at the recent annual NCE Export Awards Ceremonies in 2020 and 2021 are the best examples of the continuous exceptional performance of the LHI.