Lanka Hydraulic Institute Ltd (LHI) Secures Prestigious GOLD in NCE Export Awards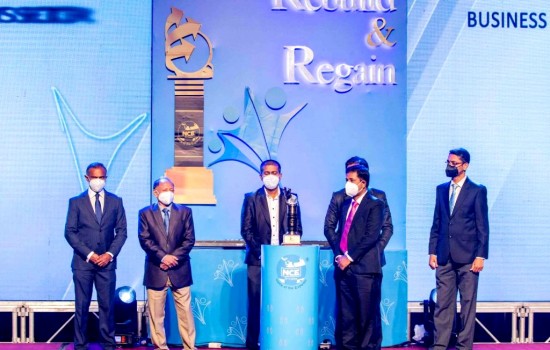 Lanka Hydraulic Institute Ltd (LHI) is once again recognized with GOLD award at 29th annual NCE Export Awards Ceremony. The event acknowledged and honoured Sri Lanka's export performers for their excellence in the financial year 2020/2021. Over its 37 years of untiring service for country's economy, LHI has steadily emerged to be an exporting giant in the professional services export sector. Being able to bag two consecutive Golds is a tell-tale sign of a company who truly championed the art of being global.
Lanka Hydraulic Institute Ltd (LHI) majors in the export of knowledge through consultancy services in Coastal Engineering, Water Resources and Urban Water related designs and studies. Equipped with state of the art hydraulics laboratory, and wide variety of in-house expertise, LHI offers port planning and design, field investigations, and numerical & physical modelling of coastal / inland water structures etc. Since its inception, LHI has conducted over 450 projects in Sri Lanka and overseas. All its processes are streamlined, quality assured, and in accordance with ISO 9001:2015. LHI's services are proudly relied upon by number of international clients in Algeria, Bangladesh, Belize, Bhutan, Brunei, Eritrea, France, India, Iran, Maldives, Mauritius, Oman, Senegal, South Korea, and UAE.
The financial performance of Lanka Hydraulic Institute Ltd (LHI) has been remarkable last year as its turnover shot up to LKR 236 million with almost 45% of which is coming from exports. It is also is the first time the company surpassed LKR 100 million export revenue, says its Chief Executive Mr. Janaka Kurukulasuriya. This is truly remarkable achievement particularly when the industry struggles with impacts of COVID 19 pandemic. Refusing to be at the receiving end, LHI has instead revitalised its policies to reach higher and wider in the intentional market while safeguarding the best interests of the employee base. Thus, LHI goes onto the record as one of the few consultancy giants in the country who declared profits and dividends when the industry, on average, was exercising layoffs and salary cuts.
Elaborating the success story further, Dr. Sanjeewa Wickramaratne, senior specialist of LHI told that the company has always prioritised customer satisfaction that enabled to develop the foundation of trust on which the future success is built. The company strives to make a profound impact in the consultancy milieu on the pillars of economic, social and environmental sustainability. "Branded as one of the few Carbon-negative engineering service providers in the country, our approach is to be sensitive and considerate in every aspect of our work" he added. LHI with its unique potential for export of services, continues to excel in the global market in coastal and inland water sectors. LHI's key for the success is its unmatched technical capabilities coupled with greater flexibility it offers to the clientele.