Hydraulic Laboratory with Wave Flume and Basin
LHI possesses the best state-of-the-art Hydraulics Laboratory in the Indian Ocean region giving LHI the impetus to provide total solutions in physical modelling. The laboratory is conveniently located within the LHI premises, and fully equipped with a 2D Wave Flume and a 3D Wave Basin. The laboratory contains a variety of standard facilities and a large open space which could be used for the construction of physical models of inland water structures.
Two-dimensional (2D) wave flume of 30 m (L) long x 0.8 m (W) wide x 1.0 m (D) deep, fitted with a wave maker (hydraulic paddle) to produce regular or irregular waves of a desired spectrum.
The wave flume can be effectively used for the modelling and analyses of breakwater /revetment armour stability, run-up and overtopping, and wave forces, etc.
The wave flume contains an Active Wave Absorption System (AWACS) that allows the wave paddle to simultaneously generate the incident waves and absorb the spurious reflected waves.
A PC-based modern software package is available for analysis of wave signals.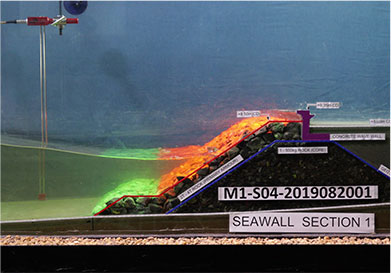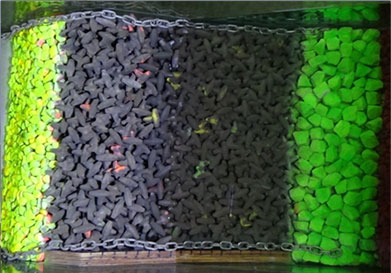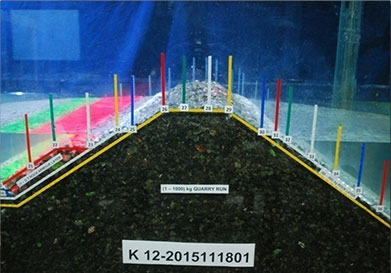 Three-dimensional (3D) Wave basin of 35 m(L) long x 25 m(W) wide x 0.8 m (D) deep
Facility to create site specific 3D bathymetries with concrete, sand or other modelling materials.
Equipped with hydraulically operated and independently operable 4 paddles of 5.5 m each with the facilities to simulate regular & irregular, random long crested waves and currents at the site.
Wave generation is controlled by a PC based Wave Synthesiser Software
Three pumps capable of delivering 1.2 cumecs.
Typical testing undertaken in the wave basin include analysis of breakwater/revetment layout and armouring, wave penetration, harbour tranquillity, ship motion, sediment transportation, coastal evolution, and artificial reefs etc.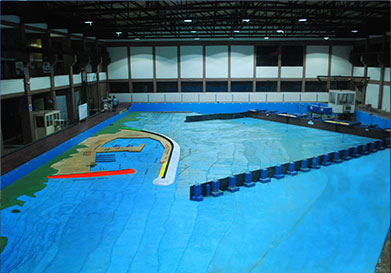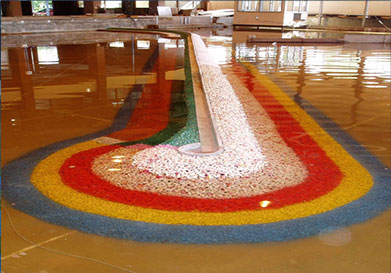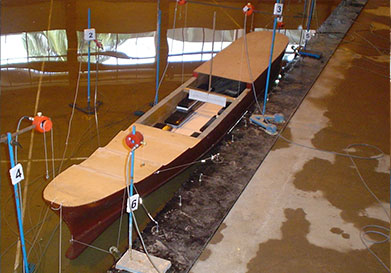 Computerized data acquisition system.
Electronic-measuring devices such as wave gauges, movement meters, strain gauge force meters, and specific driving software for model.
In-house casting facilities of various model units such as Tetrapodes, Antifer, and Dolos etc.
Standard laboratory equipment for sediment analyses.
Mechanical and electronic workshops.
Special software for data acquisition.
Online visual access of the 3D Basin and 2D Flume with high resolution IP cams.
An additional outdoor modelling area (35 m x 20 m) for the testing of inland water structures.