Dr. Ranjit Galappatti
(Chairman)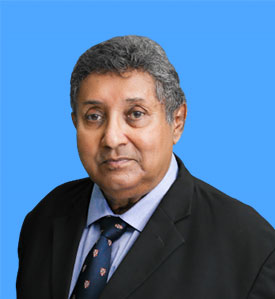 Dr. Ranjit Galappatti was a Member of the first Board of Directors of LHI at its inception in 1985, and visited LHI weekly to carry out the duties of General Manager (Engineering). In 1987 he resigned his professorship at the University of Peradeniya to work full time at LHI. In 1989 he joined Danish Hydraulic Institute (DHI) and worked on a Danida funded project to develop Numerical Modelling in the Bangladesh river systems until 1994. He was instrumental in creating the Surface Water Modelling Centre, which later became the Bangladesh Institute of Water Modelling (IWM) to institutionalise the skills and technologies developed by the modelling project over 10 years.
He returned to LHI in 1994 to resume work as General Manager.
He was appointed Managing Director of LHI from May 2000 to August 2003, later continued as Consultant-Director until 2004. He worked as an independent consultant for various international agencies and consulting companies from 2004 to 2009. He was also briefly Chairman of the Board at LHI from 2007 to 2009. Since then he has worked for DHI (Denmark), DHI (India) and SMEC on many donor funded projects in several Asian countries including India, Bangladesh, Malaysia, Afghanistan and the Lower Mekong Basin countries. He continues to carry out these assignments up to today. Presently he is leading a team of experts from Denmark, the Netherlands, USA and Bangladesh carrying out a World Bank funded research study of the long term evolution of the Bangladesh Delta.
Dr. Galappatti is a Graduate of University of Ceylon, Peradeniya, and has received his doctorate from the University of Cambridge in the UK. He taught in Peradeniya from 1974 to 1987 with a brief period at the Delft University of Technology in the Netherlands.
---
Jayasiri Wickremeratne
(Director)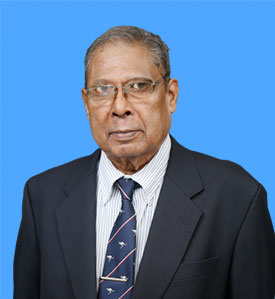 Mr. Jayasiri Wickremaratne initially joined the Board of Directors of the Company in November 1997, and rejoined in July 2009. He is a Chartered Surveyor, a Member of the Institute of Spatial Sciences, Australia and, Member of the Royal Institute of Navigation, UK, and Royal Institution of Chartered Surveyors, UK. During the period 1987-2006, he was a Vice President of the Organization of Professional Associations, Sri Lanka. He is also the Chairman of the Summa Amarasinghe COPEDEC Fellowship Trust and Chairman of the LHI Share Trust. Since the formation of LHI in 1985, he was its General Manager until March 1996 when he retired at the age of 55 years. Since then, he worked as Project Director to the USAID / University of Rhode Island / Coast Conservation Department, Coastal Resource Management Project, and as Team Leader of several multilateral and bilateral funded CRM Projects.
Prior to joining the Company he was the Manager of Coastal Resources Planning and Development in the Coast Conservation Department in which capacity he led the Planning Team that prepared the Coastal Zone Management Plan (1978-1985) for Sri Lanka, and was responsible for implementation of the Coast Conservation Law under which all development activities in the Coastal Zone became subject to regulations under a permit process.
---
Keerthi Bandara
(Director)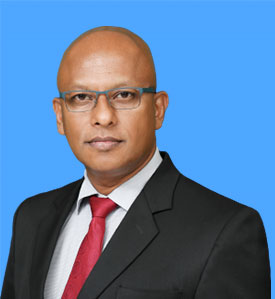 Mr. Keerthi Bandara was appointed to the Board of Directors of the Company in 2010, and functions as the Chairman of the Audit Committee of LHI. He was the CFO/Executive Director of Camso Loadstar (Pvt) Ltd., which is a subsidiary of Michelin, France. Also he was a Non-Executive Director of Camso GBS (Pvt) Ltd, Camso Trading (Pvt) Ltd in Sri Lanka, and Camso Enterprise Management (China) Co., Ltd in Shanghai, China. He served as a Director at Camso Ltd, Hong Kong during 2015-2017. He is also a Director at SAP Supermart (Pvt) since 2020. He counts over 30 years of experience in manufacturing and service sectors including Tiles, Apparel, Tyres and Tracks. He has held positions in the field of auditing, finance and also in operations.
He is a Fellow Member of CA Sri Lanka, fellow member of CMA Sri Lanka and holds an MBA from the University of Colombo.
---
Romesh Amarasinghe
(Director)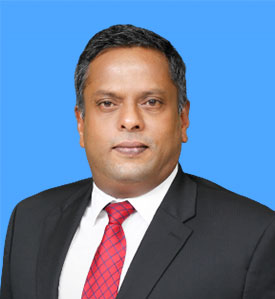 Mr. Romesh Amarasinghe was appointed to the Board of Directors of the Company in November 2015. He holds a Masters Degree in Electrical Engineering (Hons) from the University of Northern Illinois, having completed his undergraduate studies in Electrical Engineering at the University of Wisconsin in Madison. He first entered the University of Moratuwa, to read for his Bachelor's Degree in Electrical and Electronics Engineering in 1986 prior to leaving to USA in 1988. Mr. Amarasinghe is the Executive Director and Chief Commercial Officer & Compliance Officer of Fairway Waste Management. He is also a founder Director of Sustainable Alternatives (Pvt) Ltd.
As a business professional, Mr. Romesh has 25 years of experience representing two leading Fortune 500 U.S. Multinationals in the Sri Lanka and Maldives Regional Market. He started his career as the Technical Services Engineering Manager of 3M from its inception in Sri Lanka, last holding the position of Head of Sales, Marketing and Business Development. Subsequently, Mr. Romesh took position as the Country Head of General Electric Company (GE) in Sri Lanka and Maldives. Mr. Amarasinghe currently holds position as the Managing Director at Sustainable Development Consultants (Private) Limited. He also serves as a Director/Shareholder of Fairway Colombo City Hotel. Mr. Romesh is a shareholder of Lanka Hydraulic Institute Limited since 2010 and has served the Company initially as a Trustee on the Board of Trustees since 2011, and the Board of Directors since 2015.
---
B R L Fernando
(Director)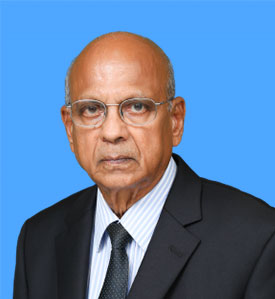 Mr. B R L Fernando was appointed to the Board of Directors of the company in 2016. Currently, he is the Chairman of Commercial Development Co PLC, Tropical Abundance (Pvt) Ltd, Tropibar (Pvt) Ltd, NEL Farms (Pvt) Ltd and Noorani Estates (Pvt) Ltd. He is also Non-Executive Director of First Guardian Equities (Pvt) Ltd, Ceylon Tea Brokers PLC and St. Nicholas Education Services Ltd. He was the former Deputy Chairman / Director of Commercial Bank PLC, and Non-Executive Chairman, CIC Holdings PLC and Chemanex PLC.
He is a Fellow of the Institute of Chartered Accountants of Sri Lanka with considerable exposure to the banking, manufacturing, agricultural and trading sectors in Sri Lanka.
---
D A De S Wickramanayake
(Director)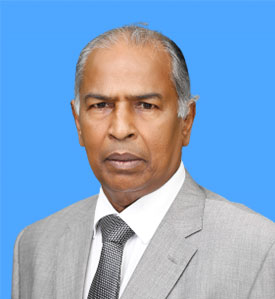 Mr. Ariyaseela De S Wickramanayake is the founder Chairman / Managing Director of Master Divers (Pvt) Ltd., which created a landmark area of activity in the shipping industry. He is the owner of Pelwatte Dairy Industries which produces a wide range of dairy products including milk powder and butter using locally produced fresh milk. He is Director to the Board of Aitken Spence Plantation Managements Limited, Director of Bogawantalawa Plantations Ltd and Pelwatte Sugar Colombo PLC, with a wide experience in the corporate sector. He is also the Chairman of Mawbima Lanka Foundation, an organization dedicated to promoting Sri Lankan goods. In the state sector, his experience was sought by the Government to help to run the National Livestock Development Board and the State Engineering Corporation, where he served as Chairman of these two institutions, at different times.
Currently, Member of University Grants Commission Standing Committee on Agriculture, Veterinary Medicine and Animal Science, Advisory Board Member of Sabaragamuwa University, Council Member of Ocean University, Faculty Representative for the Faculty of Technology, University of Colombo, former Council Member of Uva Wellassa University, and Council Member of National Institute of Fisheries and Nautical Engineering, former Member of the Council University of Ruhuna. Mr. Wickramanayake has published the book "WHY HAMBANTOTA" (regarding Port of Hambantota).
He was appointed to the Board of Directors of LHI in September 2016.
---
Ajith Abeysekera
(Director)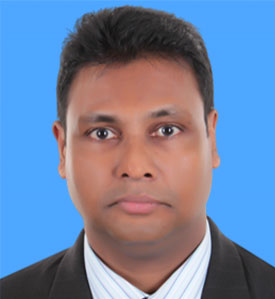 Mr. Don Ajith Perera Abeysekera was appointed to the Board of Directors of the Company in 2020. He holds a Master's Degree in International Development Studies from the Graduate Institute of Policy Studies (GRIPS) in Tokyo Japan, 2003, a Post Graduate Diploma in Sub National Level Development Planning from the University of Colombo, 2000. He was also attached to the United Nations University, Tokyo Japan for six months as an Intern during October 2002 - March 2003. He is a Graduate from the University of Kelaniya with B.Sc (Hons) in Physics, Mathematics and Industrial Management in 1991.
He currently holds the position of Director General, Department of External Resources, under the Ministry of Finance. He was serving as the Additional Director General of the same department since 2013, and counts on 27 years of experience in the public service. He is a Special Grade Officer of the Sri Lanka Planning Service (SLPS).